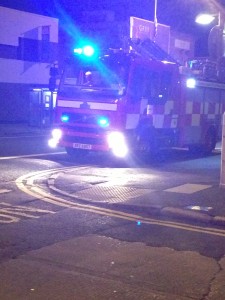 POLICE are appealing for information after four people escaped injury after a fire was started a fire in a house while they slept.
A 19-year-old woman was arrested in connection with the incident which occurred at a house in the Ballycolman Estate in Strabane in the early hours of Wednesday morning.
Appealing for information, PSNI Sergeant Glen Warnock said: "At about 12.15am on Wednesday someone went into the kitchen of a house at Ballycolman Estate and started a fire.
"Four people were in the house at the time, including two teenage children.
"Fortunately, a smoke alarm was fitted and was working and it woke the householder, who was able to put the fire out.
"At about the same time, a wheelie bin was set on fire at a neighbouring house.
"We are keen to hear from anyone who was in the area and can help our enquiries into what was potentially a very serious incident."
Sgt Warnock said information can be given on the police non-emergency 101 telephone number.
Alternatively, it can be provided to the Crimestoppers charity anonymously on 0800 555 111.