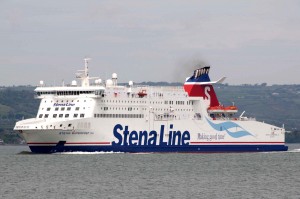 A recent survey revealed that 82% of people are considering taking a car-cation.
And with 79% saying that their financial situation influences their destination choice the news that Stena Line is offering 50% off ferry travel for a car and up to five people will really help put holidaymakers behind the wheel.
The money-saving offer is available on Stena Line's Irish Sea North routes from only £189* from Belfast to Cairnryan for a three day return trip for travel between September 1 – October 31 when booked by September 30.
Those who would like to travel via Liverpool can do so from only £229 on day sailings** for a three day return on the same dates.
This offer is the perfect opportunity for a getaway for those who want to enjoy the last bright nights of summer with the family. There's plenty to see and do in Britain including:
Explore Britain's Castles
Enjoy the freedom of taking your car on holiday and explore some of Britain's castles. Glamis Castle in central Scotland claims to be the most haunted castle while Alnwick Castle in Northumberland combines a stunning medieval castle with exciting activities for families, and it's also rather famous among Harry Potter fans having played the role of Hogwarts in the films.
Riverside Museum, Glasgow, Scotland
Experience the past brought to life at the Riverside Museum, Glasgow's museum of transport. Walk along a recreated 19th-century street, step inside shops and learn all about transport through the ages as you come face to face with the vehicles that changed city life.
Chester Zoo, Cheshire, England
Why not take a trip to the UK's number one zoo which hosts over 11,000 animals and 400 different species. With a huge range of mammals, birds, reptiles and amphibians, Chester Zoo has a very exotic list of residents which is sure to delight families and children of all ages. As well as learning more about animals and conservation, kids can also explore the play areas which include mini-golf and face painting.
Alton Towers, Staffordshire, England
With over 50 rides and attractions, there is something for everyone at Alton Towers including the 14 loop rollercoaster, The Smiler and old favourites such as Nemesis and Oblivion. Young families can also look forward to the brand new CBeebies Land which is home to a range of unique themed rides, attractions and live entertainment offering a completely immersive experience for children to create new experiences.
Marc Casey, Stena Line's Route Marketing Manager, said: "Take the car to Britain and enjoy a massive selection of visitor attractions, unique experiences and road tours that will stay with you forever.
"Car-cations are great ways for the whole family to experience a holiday together as you can experience unplanned events, stop off whenever you need to and go at your own pace helping to make your holiday your own. Plus you have the luxury and excitement of a ferry journey by sea plus no baggage restrictions or charges so you can bring all the comforts of home.
"There are no long queues at check-in, plenty of places to explore onboard, fabulous dining options and great value meal deals. You can watch a free movie and surf the net with free WiFi and enjoy up to 50% off hundreds of quality lines compared to the High street in the onboard shop."
Avoid being asked 'are we there yet?' by keeping everyone in the car entertained, here are Stena Line's top tips – make a mix-CD of favourite pop artists; have a game of eye spy; bring your Tablet or games console; bring a bestseller book; have a good old sing-song; take a pen and writing pad and play hangman or Noughts and Crosses, and if all else fails you could always have a nap!
For further information or to book, click on www.stenaline.co.uk, call 08447 70 70 70 or visit your local travel agent.
*Terms and conditions apply. Subject to availability.
** A £40 supplement applies to night sailings from Belfast to Liverpool