ENTEPRISE, Trade and Investment Minister Arlene Foster has today announced that global law firm Baker & McKenzie has chosen Northern Ireland as the location for its new Global Services Centre creating 256 quality jobs.
The new centre, to be based in Belfast, will comprise over 70 staff in legal services and 185 in administrative global services providing HR, IT, payroll and billing services, among other support lines.
Arlene Foster said: "This highly significant investment, by Baker & McKenzie, the world's largest law firm, is another vote of confidence in what Northern Ireland can offer international professional services firms.
"Baker & McKenzie considered a number of locations around the world but, through the excellent work of Invest NI, and the advocacy of other international investors, including what they heard when they attended the Investment Conference last year, the company chose Northern Ireland.
"I met with senior representatives from the firm in Chicago in June during my visit to the US and was able to outline just what Northern Ireland could offer.
"Once again it was our talented workforce, cost-effective environment and attractive financial support packages that secured the investment for Northern Ireland.
"The legal services operation will be the first unit of its type globally for Baker & McKenzie, and, as such, can be seen as a real coup for Belfast.
"These are high quality jobs, contributing over £8million in salaries to the economy every year.
"With roles available across a variety of functions this investment will provide a wide range of opportunities for people at various stages of their career, from graduates to legal and other professionals.
"The firm is also keen to work closely with our universities to help develop curricula that will produce graduates with industry-relevant skills, making Northern Ireland an even more attractive to other global legal firms."
Baker & McKenzie will begin recruiting in September with the jobs to be created over the next three years, offering an average salary of £31,000. Invest NI is supporting the investment with an offer of £1,280,000.
Baker & McKenzie is the world's largest law firm by revenues after recently announcing annual income of $2.54billion.
The firm has almost 11,000 employees in its 76 offices in 47 countries. It provides a full range of legal services to many of the world's largest multinational companies.
Eduardo Leite, Chairman of Baker & McKenzie, said: "This investment will further enhance our ambition to lead our profession globally and offer our clients exceptional service wherever they are in the world, while benefiting the local economy through the creation of hundreds of new jobs."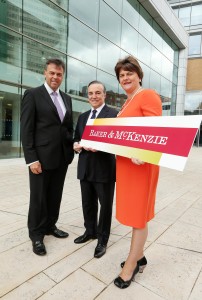 Jason Marty, Executive Director of Baker & McKenzie Global Services Belfast, said: "Through our visits to Belfast earlier this year and meetings with Minister Foster, Invest NI and other international firms that have Northern Ireland operations, we were persuaded that Northern Ireland offers an excellent location for our needs. We believe we can offer great opportunities to legal and other professionals in Northern Ireland wanting to work for the world's largest law firm."