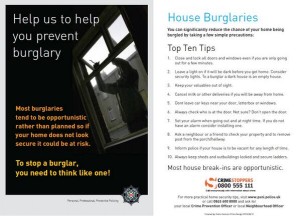 POLICE in north Belfast are investigating two reports yesterday of a thief posing as a member of NI Water.
He then carried out the burglaries in the Shore Road and Brookvale Street areas.
The male was described by one victim as being approximately 30, 5ft 11, with brown combed hair, wearing a brown jumper and checked shirt and having a southern accent.
In the second incident a silver car was mentioned.
Anyone with information about the burglar is asked to ring police on the non-emergency 101 number.
Police have re-issued advice about the "Quick Check Scheme".
They say most callers to your home will be genuine; however there are some who may not be.
These callers are 'Bogus Callers' or 'Distraction Burglars' who may want to trick their way into your home to steal from you. If you are in any doubt simply check your caller out with QUICK CHECK on Freephone 0800 013 22 90.
Easy Steps with QUICK CHECK
• Before you answer the front door, make sure your back door is locked!
• If you have a door chain remember to use it before you open the door.
• Ask the caller for their identification and check it carefully.
• Ask them to wait outside and close the door – genuine callers will not mind.
• Ring Freephone 0800 013 22 90, your call will be answered personally and promptly by a trained operator. They will check with the company on your behalf, that the person at your door is genuine. If they are not or they think there is something suspicious, they will contact the police immediately.
• Do not let anyone into your home until you are satisfied as to who they are.
QUICK CHECK is a FREE telephone service, which is available 24 hours a day all year round to residents throughout Northern Ireland.
Remember if in doubt check your caller out with QUICK CHECK on 0800 013 22 90.
Report all incidents of suspicious callers to police in an emergency dial 999 and for non emergency ring 101