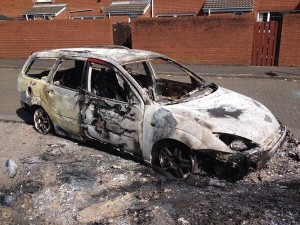 THE PSNI say police officers were attacked with petrol bombs in east Belfast during another night of sporadic trouble.
The violence erupted after officers responded to a report of a burning car in Castlereagh Street at around 11.15 pm last night.
Police chiefs mobilised extra resources to be sent into to the area.
Chief Inspector David Moore: "The increased police presence in the area will act as a deterrent to individuals who may be considering orchestrating any attack."
He added: "This police presence has also sought, where possible, to identify people involved and where there is evidence of an offence, we will take action to bring these offenders before the courts.
"Parents are reminded to ensure that they know the whereabouts of their children as anyone that is caught engaging in disorder or criminal damage is likely to end up with a criminal record.
"I would continue to appeal to the local community within east Belfast to assist us in addressing problems in their area by reporting crime and passing on information about the type of crime and those involved to us."
Last night's violence was an escalation of violence in the area over recent days, weeks and months.
Rival republican and loyalist youths have been clashing on the Short Strand/Templemore Avenue interface as tensions in the area boil over.