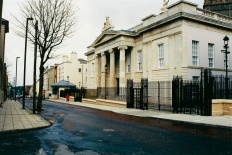 TWO are to face court his morning charge with a number of offences including hijacking.
A 22 year old man has been charged with hijacking, theft and five motoring offences while the second man, aged 23, has been charged with hijacking and five motoring offences.
The charges relate to an incident in the Little Diamond area of Derry on Wednesday night.
Shortly after 10.00pm, a white Kia Picanto car was driving from "Free Derry Corner" towards Northland Road when it was stopped by a man standing in the road.
Two men were later arrested in the Primrose Street area in relation to the incident.
They are due to appear at Derry Magistrates Court in the morning.