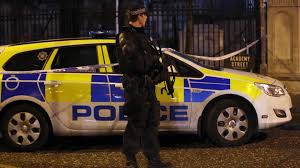 DETECTIVES are investigating a suspected 'punishment shooting' in north Belfast last night.
The PSNI say that a man in his 40s was taken to hospital by paramedics for a gunshot wound to his leg after an incident in the Wallasey Park area.
Just after 10 pm, two men were driving in the Carr's Glen area when it is believed something was thrown at their vehicle.
The stopped the car and got to investigate.
It is at this point police believe one of the men sustained a gunshot wound to his right thigh.
One line of inquiry is that the incident may have been a 'punishment shooting'.
The victim, who is in his 40s, was rushed to the Mater Hospital but his injuries are not thought to be life threatening.
Detectives have appealed for anyone who may have witnessed the gun attack to contact Tennent Street CID on the non-emergency number 101 or they can pass the information to Crimestoppers anonymously on 0800 555 111.