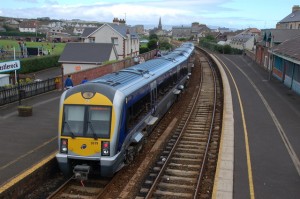 ONE pedestrian could have been killed and two others had near-misses on a railway line, Translink has warned.
The company and the PSNI are investigating THREE separate incidents on Wednesday of people walking along the Belfast to Derry tracks.
"During school holidays, incidents of pedestrian trespass on the rail network unfortunately often increase," said Ian Campbell, from Translink's rail services.
"The network can look like a handy short cut or a good place to play, but the risks are just not worth it.
"Since the beginning of July this year there have been 79 incidents of pedestrian trespass on the railway network, ranging from groups of youths loitering at railway halts and bridges and young children running across tracks, to older passengers using tracks as short cuts.
"The message is simple – don't ever use the tracks as a short cut or a playground and never try to beat the barrier at level crossings."
He appealed to parents to reinforce the message with children.