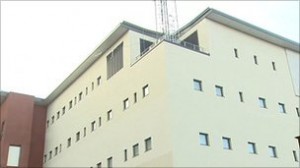 DETECTIVES are questioning two teenagers who were arrested when a petrol bomb was thrown at police officers involved in the removal of an anti-internment bonfire in west Belfast.
Officers from the PSNI's Tactical Support Group were providing security to Belfast City Council staff who were  taking down wooden pallets erected for the bonfire in Albert Street near the Divis Flats.
One petrol bomb was thrown while the operation was ongoing but fortunately no one was injured.
As part of follow up inquiries, two teens – aged 13 and 19 – were arrested for public order offices.
They are currently in custody at Musgrave PSNi station being questioned about riotous behaviour and possession of a petrol bomb.
In a statement, the PSNI said its neighbour hood teams were available to speak to the public on a range of issues including bonfires.
"Whilst not the lead organisation on the issue of the siting of bonfires, we understand we have a role to play and will assist other statutory bodies carry out their duties if called upon to do so.
"We always advise that organisers ensure they have sought permission from relevant landowners and that bonfires are safe, pose no threat to life or property and are not likely to prompt a breach of the peace or any other offence.
"Whilst the physical removal of bonfires is not a matter for police, local neighbourhood officers can and do attend when requested to do so by agencies involved in bonfire removal."
Belfast City Council said it does not have a policy on the removal of bonfires but each case is judged on its own merits following consultation with the community and locally elected representatives.
The issue of bonfires will be discussed at a forthcoming council meeting where councillors will hear that employees have been threatened trying to remove contentious bonfires.
Anti-internment bonfires are lit at midnight on August 8 and burn into the small hours of August 9 when internment started in the early 1970s.