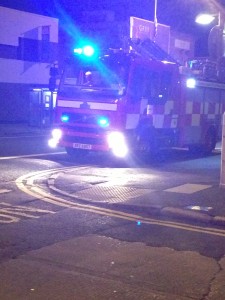 POLICE say a number of people luckily escaped injury during an overnight arson attack at a house.
The living room of the property in Ballymena's Francis Street was damaged in the attack which took place at about 1.40 am this morning.
Police said "several people" were in the house at the time but the all escaped without injury.
Local police chief Stephen McCauley, said the attack could have caused death or serious injury.
The police and the Fire and Rescue Service attended the incident and the fire was extinguished.
Forensic officers are currently conducting an examination of the scene.
In a PSNI statement, Chief Inspector McCauley said: "Thankfully we are not dealing with fatalities or serious injury here.
"The attack was crude but also very dangerous.
"Police officers and the fire service arrived quickly on the scene to help the occupants of the house and take them to safety."
Detectives at Ballymena CID are appealing for information about the attack.