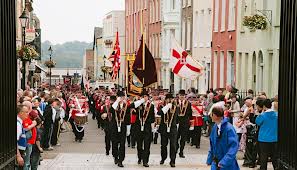 THE PSNI have said they have planned a "comprehensive operation" for the annual Apprentice Boys of Derry parade and pageant taking place in Derry city this Saturday.
One of the largest parades in terms of participants during the North's "marching season," almost 150 bands and up to 15,000 people are set to parade through the city.
Chief Superintendent Stephen Cargin, the PSNI's G District commander, said the policing operation would be "visible but low-key."
He added: "We have held discussions with groups representing both traditions in the city and with the business community.
"The feedback we are getting is that everyone is keen to ensure that the day passes of peacefully and successfully.
"This city has developed a tradition of peaceful parades and that has come about through dialogue and understanding in many diverse quarters.
"The safety of all, whether they are participants, spectators or residents, is a key issue for us and has shaped the policing operation we have planned.
"In particular, we will have traffic controls in place at key times during the day. We are asking for the patience of all road users.
"Those who wish to travel through the city centre are advised to note the traffic arrangements in place and to seek alternative routes."
He added: "It is important that people coming to the city are mindful of their actions and how they could affect others."
CS Cargin concluded: "It is my hope that everyone attending the event, either as participants or onlookers, will show respect for others by refraining from any behaviour that may be considered offensive or which constitutes a criminal offence."