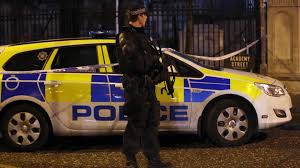 POLICE are jubilant after making an arrest following an armed robbery in north Belfast.
Officers responeded to he incident happened on Saturday around 12 55 pm at Fortwilliam shops.
Local police officers located the suspect in a building and Armed Response Officers entered and arrested the suspect.
Following a search police recovered what is suspected to have been the knife used in the robbery.
Anyone with any information in relation to the incident should contact detectives at Tennent Street on 101 (1255).