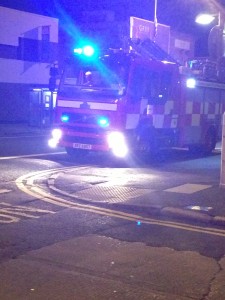 AN investigation has been launched to uncover how a blaze erupted at a disused factory last night.
Fire crews are still at the scene of the blaze on Sunday at Faulkner Road in the Clandeboye industrial area of Bangor, Co Down.
Detectives from Bangor CID and forensic teams are at the scene trying to discover how the fire started.
Residents living nearby were told to keep their doors and windows closed to avoid the large volumes of smoke.
Fire service group commander Randy McComb said it took them several hours to bring the blaze under control.
"It was a very well-developed fire and it's a very large building,"  he said.
"The fire was right through the roof when we arrived, it took eight appliances to deal with the fire and it took us about six hours to bring the fire fully under control.
"We still have a crew there at the moment and we have a fire investigation team there at the moment trying to determine the cause of the fire."
No one was injured during the fire and investigators are now trying to find out if it was started accidentally or maliciously.