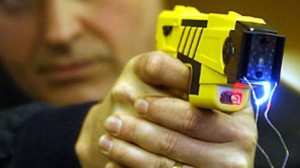 A MAN who had been self-harming and had a knife held to his chest, has said he might not still be alive if police had not used Taser against him.
Police had gone to the man's home in Limavady in November 2012 and found that he had cuts to his wrist and appeared likely to cause further self harm.
A Taser was used against him, allowing officers to remove the knife before taking him to hospital for treatment.
All firearms incidents, including the use of Tasers, are referred by the Chief Constable to the Police Ombudsman for independent investigation.
In a statement provided to Police Ombudsman investigators probing the incident, the man said: "If they hadn't fired the Taser I believe I would have seriously injured myself or perhaps killed myself."
Police Ombudsman Dr Michael Maguire said examination of police records showed the officer who used the Taser was properly trained to carry the weapon and authorised to use it during this incident.
Dr Maguire concluded the use of the Taser during the incident had been lawful, proportionate and necessary