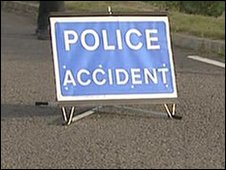 AN  investigation has been launched after three police officers and a woman were taken to hospital after two cars crashed into a wall.
The crash happened on the Wheatsheaf Road in Coleraine around 5 pm on Saturday.
One of the vehicles involved was a police car.
A PSNI spokesman said the three officers were in a police car responding to a call when the crash happened.
The injured woman was driving the other car.
All four people have now been discharged from Causeway hospital.
The crash is being investigated by the PSNI's Collision Investigation Unit.