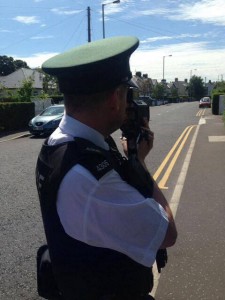 MOTORISTS have been warned to stop speeding, pay greater attention to the road and stay off their mobile phones.
The warning comes from the PSNI as they prepare to launch the latest in a series of summer road safety operations.
So far this year, 43 people have been killed on the North's roads, nine more compared to the same time last year.
Last weekend, police weekend detected two people travelling at over 11omph.
Superintendent Gerry Murray, Head of Road Policing, said: "To be blunt, the people detected travelling at these speeds are simply idiotic.
"Thankfully, they can look forward to a day in court, where they are likely to receive a fine and lose their licences.
"Receiving a driving ban could have a catastrophic impact on their life, affecting their job or even put them in jeopardy of losing their home, but it is nothing compared to the catastrophic impact of someone losing their life."
Referring to the number of people killed on our roads so far this year, Supt Murray added: "When you consider that many, if not the majority of these deaths caused by collisions could have been avoided, it's an appalling waste of life.
"Inattention and speed, or more accurately, excessive speed for the conditions and drink or drug driving, are consistently the principal causes of the most serious road traffic collisions in which people are killed or seriously injured on roads across Northern Ireland.
"Over the coming months, we will have additional police resources on the roads across Northern Ireland.
"In addition, we met with our An Garda Síochána Traffic Corps colleagues earlier this week, to ensure that we will have a coordinated operational approach in the border counties, specifically looking for vulnerable road users and those taking unnecessary and potentially life-changing risks.
"All we ask is that drivers slow down, do not drive after drinking or taking drugs, wear a seatbelt, drive with greater care and attention and don't use mobile phones while driving."