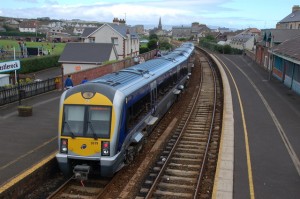 THE police are warning the public of the dangers of Northern Ireland's railway tracks.
Neighbourhood Police in Co Antrim say they have been made aware that youths have been playing on the railway lines at Greencastle.
A PSNI spokesperson said: "We wish to bring this to the attention of parents in the local area and highlight to them the extreme dangers of playing here.
"The consequences can be fatal.
"We are aware that it is the summer holidays and children will want to be outside playing.
"However, parents must ask themselves if they are aware where their children are when they are out of the house."
Anyone who spots youths playing on railway tracks is asked to contact police on 101 on Translink immediately