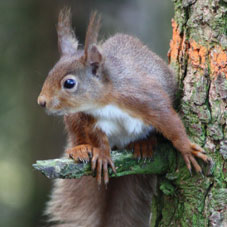 BELFAST Zoo is 'going nuts' over the latest arrivals to the family – two red squirrel kittens.
Belfast Zoo first opened red squirrel nook in August 2012 and, while the aim of the project was to provide an interactive and educational experience, the long term hope was for this to become the first captive breeding centre for red squirrel in Northern Ireland.
The first kitten was born in 2013 and, in recent weeks, keepers have spotted two infants on the feeding stations.
Throughout the entire red squirrel nook project, Belfast Zoo has worked closely with the Northern Ireland Squirrel Forum (NISF) which is chaired by the Northern Ireland Environment Agency (NIEA).
The forum was established to bring together those dedicated to protecting the red squirrel in Northern Ireland. Members of the forum include Belfast Zoo, conservation organisations, local red squirrel action groups, local authorities and councils.
Chairperson of the NISF, Declan Looney, explains "Belfast Zoo is recognised around the world for the conservation work they do with exotic and endangered animals.
All members of the NISF are working closely to ensure the continued presence of the red squirrel in Northern Ireland.
In 2011, more than 90% of Tollymore Forest's red squirrel population was wiped out by the squirrel pox virus carried by the invasive grey squirrel and, in 2012, research suggested that the red squirrel is no longer present at Belvoir Park.
These two cases demonstrate the fragility of this species, however, it is encouraging to see the results of our efforts with the first captive breeding programme in Northern Ireland.
"We are delighted that this project will potentially provide a 'safety net' population of red squirrels."
Alyn Cairns, zoo curator and chairperson of the Belfast Zoo native species group, continues, "The zoo, NIEA and the Northern Ireland Squirrel Forum have already drawn up complex breeding agreements.
"The hope is that any offspring from the squirrels living at the zoo will supplement the current, safe red squirrel populations or potentially populate suitable new areas.
"We would like to take this opportunity to thank the Glens Red Squirrel Group for their help in establishing the population of squirrels in the nook and for their continued support with the project."
Belfast Zoo's red squirrel nook was funded by zoo visitors in 2010. Belfast Zoo would like to thank everyone for their support, without which, this project would not have been possible.
Come along to Belfast Zoo's native species fun days, this weekend, to find out more about what the zoo and their partners are doing for Northern Ireland's native species, learn more about local wildlife and join in with activities for all the family.
For more info visit www.belfastzoo.co.uk/nativespecies or email www.facebook.com/belfastzoo