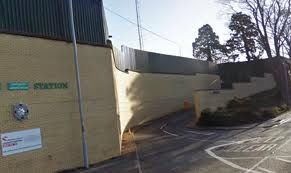 A 27 year old man arrested on suspicion of motoring offences and assault on police following a number of incidents has been bailed pending further inquiries.
Police on patrol in the Ferryhill Road area at around 7.30pm on Sunday night noted a silver BMW doing 'donuts' in the middle of the road and indicated for the vehicle to stop.
The driver however made off towards the police vehicle at speed, ramming the car as he did so.
At around 10.10pm the silver BMW was spotted by another police patrol in the Kelly's Road area.
The car reversed at high speed at a female officer, causing her to jump clear of the path of the car to avoid being struck.
The BMW was then detected at around 10.30pm at the rear of an address at Kelly's Road and the arrested male was detained after he confronted police and attempted to assault officers at the same location.
The BMW has now been seized for examination.
Three officers, two male and one female, were treated in hospital for head and leg injuries following the first collision with the police vehicle.
The female officer involved in the second incident also reported some minor injuries and was taken to hospital for treatment.
Officers are also investigating a number of other reports of vehicles, possibly including a silver BMW, driving erratically in a number of areas at the border area last night.
The suspect was held at Ardmore PSNI station but has now been released..