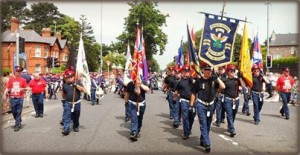 THE Twelfth morning parade past the flashpoint Ardoyne shop fronts is to be challenged this afternoon in the High Court by a member of a nationalist residents' protest group.
Restrictions have already been imposed on the return leg of the march on the afternoon on 12 July banning it from passing the Ardoyne shops.
Loyalists and unionists have strongly objected to the determination for the second year in a row.
The resident is a member of the Greater Ardoyne Residents Collective (GARC).
The unnamed person is seeking a judicial review of the Parades Commission decision to allow the march to pass along the disputed section of road on Saturday morning.
The hearing is expected to take place around 2 pm in the Royal Courts of Justice.