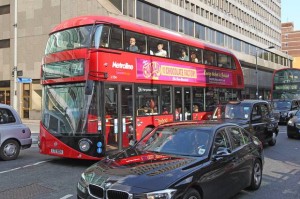 WRIGHTBUS International has won a fourth consecutive significant contract with partner Volvo Bus to supply vehicles to SBS Transit in Singapore.
It will will see them jointly supplying a further 415 double deck buses over a three year period.
This latest contract, which is due for delivery between 2015 and 2017, follows in the footsteps of three previous orders which have already seen a total of 1,015 similar vehicles enter service with SBS Transit since 2010.
Deliveries of the first tranche of 150 vehicles were completed in September 2011, followed by 300 more in January 2013 and a further 565 which will be fully in service by 2015.
The latest order – which is also based on Volvo Bus' B9TL chassis – will again be supplied and packaged in complete knocked down (CKD) kits from the company's Ballymena plant in Northern Ireland and then shipped to Singapore, where they are assembled by Comfort Delgro Engineering at their facility, supported by Wrightbus International technicians.
Steve Harper, Business Development Director for Wrightbus International, said: "As a long standing supplier, we're delighted to have been awarded this latest contract from SBS Transit to supply a further 415 double deck buses in conjunction with our partner Volvo Bus.
"Featuring the distinctive and stylish Wrightbus body, these tri-axle, air conditioned, 12m buses have been specifically developed and designed to meet the stringent requirements of the Singapore climate and high passenger numbers."
"This latest order is part of SBS Transit's on-going programme to completely renew its fleet and provide 'greener' vehicles for the benefit of passengers and the wider Singaporean environment.
"Together with Volvo, we already have an extensive aftermarket organisation in place which will be further expanded to ensure that all the 1,430 vehicles which will be on the road by 2017 are fully supported to SBS Transit's."
North Antrim DUP MP Ian Paisley jnr said: "This is fantastice news for Wrightbus. and also for the workforce in Ballymena."