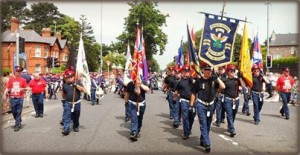 LOYALISTS plan to lay siege to a police station this week as flute band members are arrested over the nightly Twaddell street protests.
Hundreds of people across Northern Ireland have pledged to join the picket as four members of the Pride of the Ardoyne band attend Tennent Street PSNI station in west Belfast.
They have been invited to attend at 7 pm on Wednesday, July 2 along with their solicitor Joe Magee for alleged repeated breaches of Parades Commission determinations.
They are to be interviewed by detectives from 'Operation Titan' which police chiefs set up following two-days or rioting last July after the PSNI blocked a return feeder parade past the Ardoyne shop fronts.
The band members are to be arrested under Article 10 of the Police and Criminal Evidence (PACE) Order for flouting PC rules on the playing of music at Twaddell and Woodvale..
One of those asked to attend has been told he faces a total of nine breaches for playing music contrary to the Commission's determination.
A further 11 POA members are expected to attend in the coming week for similar breaches.
Senior loyalist sources said there was "deep anger'' in the community at the planned arrests of the band members.
"The Pride of the Ardoyne flute band is seen as the main event at Twaddell. They have been there since the parade was banned and they led the parade to police lines last Twelfth of July.
"What we expect will happen on Wednesday is that they will be arrested, cautioned, interviewed and then released on strict bail conditions which means they won't be able to take part in any parades.
"There has been a lot of support from across Belfast, Antrim and Londonderry for the band after news spread that they were to be arrested.
"But there has been no support for them from the local Orange Order in the district. They have cut them adrift.
"If the local Orange Order don't turn out on Wednesday night to support the Pride of the Ardoyne, then the protest at Twaddell Avenue is finished.
"The loyalist people will not come to out to watch men walking up and down a street with collarettes and no bands playing.
"The choice is theirs: they either stand shoulder-to-shoulder with their loyalist brothers at Tennent Street or they can join a united Ireland and fill their pockets with Euros.''
Scores of loyalists have been convicted and jailed in recent months over the rioting at Twaddell last summer in which over two dozen police officers were injured.
Senior judges in Belfast have recently warned that if sentences handed down for last year's trouble do not act as deterrent, then anyone caught rioting this summer will go to jail for a longer period.