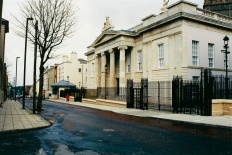 TWO retired RUC officers have appeared at Derry Magistrates Court charged in connection with an alleged miscarriage of justice involving four local men 35 years ago.
John McGahan (71) and Philip Noel Thomson (65), whose addresses were given as PSNI, Knock Road, Belfast, are charged with perverting the course of justice involving one of four men, who became known as the "Derry Four," who were wrongfully convicted of the killing of a British soldier in the city in 1979.
The two former RUC officers are each charged that, on a date unknown between 27 February and 2 March, 1979, with intent to pervert the course of public justice, they recorded a written statement after caution from Gerald Kieran McGowan which was not his independent account of his involvement in the killing.
During a preliminary enquiry, a defence barrister for both men accepted they had a prima facie case.
Both were remanded on bail to appear at Belfast Crown Court on 26 September.
As he entered the dock, McGahan "winked" at the "Derry Four" who were in the public gallery.
He waved to media as he left the courthouse while Porter kept his identity hidden from public view by wearing a hooded jacket.