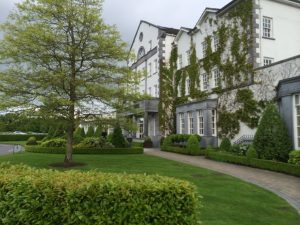 BY TIM HEDGLEY, GROUP TRAVEL EDITOR
One of the most important things a hotel can do to ensure repeat business is to ensure the consistency of the product they provide. It's the single most important factor in getting customers to revisit time after time.
It's also a factor for many holidaymakers in deciding their next hotel booking. For example if you are a fan of the Fairmont, Four Seasons or Ritz Carlton group, there is a high probability of you returning if you have experienced their level of service before.
For me that's what returning to the Slieve Russell Hotel in Ballyconnell in Co Cavan is like. When I go there, I know I'm going to get the great service and attention to detail that I have experienced before.
So two weeks ago I returned after not having been there for a couple of years to check out if my stay would be as good as my previous experiences have been.
As you drive up towards the hotel, you know you have arrived somewhere quite special. The beautifully manicured drive up to the front door is simply stunning; someone has spent a lot of time ensuring the first impression is what one would expect of a hotel of this quality.
Box hedges expertly trimmed, symmetrical planting and lawn care worthy of Wimbledon, all go to present the Slieve Russell in the best possible light. One thing I did notice however was the fact that the SR's concierge Connor, had finally retired. Connor was a welcome face and helping hand and served the hotel and its customers faithfully for many years, he has now retired and I wish him well.
Check-in was a seamless process with three of four staff on hand to ensure little or no queuing at reception, after a minute I had my key and was shown to my room. On opening the door my breath was taken away by the sight of a beautiful four-poster bed and the fact that I had been silently upgraded to a suite. Wow what a room! This was indeed going to be a great weekend; needless to say I was thrilled.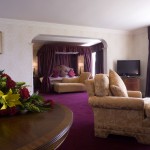 Excellent housekeeping keeps the rooms at the SR in tip top condition and I would be surprised if anyone could find fault in this hotel, as the standards remain extremely high. My room was stunning; it boasted a superb 7 ft 4″ four poster bed and a enormous bathroom with walk-in shower that could accommodate any GAA team and a similar sized Jacuzzi bath! I also had high-speed Internet access, and full use of the Ciuin Spa, Direct Dial telephone, room safe tea and coffee facilities, trouser press well the works in fact.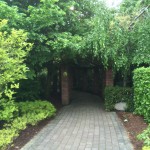 Gardening and Golf
Just after unpacking in my palatial surroundings I went for a walk in the Paul Martin designed garden, having graduated from the national botanic gardens in 1986 Paul has gone on to design gardens in Ireland, America and Europe, while specialising in town and city gardens where attention to detail is of the utmost importance. Pauls garden in the SR is a testament to his flair for design and attention to detail.
Located just a few steps from the front door the gardens are an elaborate complex of beautifully imagined themed spaces transporting the visitor to a place far from Co Cavan. Faux churches, babbling brooks and Japanese inspired spaces all go to make this a real treasure. It makes the perfect backdrop for a variety of wedding pictures, a thing that many hotels forget.
If simply admiring beautifully kept grounds is not your bag, and you feel the urge to play on them instead you will be delighted to read that the Slieve Russell Golf Course is now ranked 10th in the 2014 'Golf Weekly Magazine' Top Parkland Courses in Ireland' Forming part of a magnificent 300-acre estate, including 50 acres of lakes, this highly acclaimed 18-hole championship course is sensitively wrapped around the lakes and the drumlins of the County Cavan landscape.
The course presents a wonderful challenge and the devilishly tricky greens present a searching examination of accurate approach play, which adds to the enjoyment factor. Not surprisingly the complex has always proved very popular with visiting golf groups from all over Ireland, the UK and Europe and many return on a regular basis to sample their renowned hospitality.
The SR has hosted some major Irish PGA Tournaments including The Irish PGA Championship in 1996 and a PGA Pro-Am, which has been held since 1997 and has now become an annual event and boasts one of the highest prize funds Europe. Thankfully I chose not to create a few hundred more bunkers on the course and left the clubs in their bags, as I have done as much for golf as Louis Spence has done for rugby league.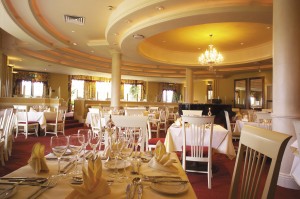 Dining in beautiful settings
After all the fresh air of walking the course and gardens I was ready for a bite to eat so you will be delighted to hear the SR boasts a number of restaurants in which you can sample fresh local produce cooked with skill and flair.The Setanta Restaurant has a contemporary style with Italian marble floors, leather finishes and rich walnut tables and panelling. The menu offers a modern selection of world flavours and culinary delights from Irish classics to Italian, Asian and seafood dishes.
Conall Cearnach
Stepping up a gearthe Conall Cearnach Restaurant is decorated in a classic style with soft lighting, marble pillars, linen tablecloths, napkins and a grand piano. The menu is sophisticated and refined with a selection of traditional dishes and modern European classics, all of which is carefully prepared from the finest seasonal ingredients. The Conall Cearnach is only open for dinner on Friday and Saturday evenings.
Summit Restaurant
Choose a light meal alternative in the Summit Restaurant, enjoying magnificent panoramic views overlooking our Championship Golf Course. Restaurant open in conjunction with Golf Club hours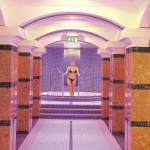 You will find some of the best value spa hotel deals in Ireland at Ciuin Spa. The Ciúin means calm and quiet in Irish, each treatment room is designed to provide maximum comfort and relaxation. When entering the Ciúin Spa you enter into a world of luxury through the senses. Experience the true meaning of relaxation and discover the journey essential for health and well-being. Guests can indulge in a range of Elemis & Spiezia treatments for both men and women including an exclusive Ciúin Signature Facial and Ciúin Signature Body Treatment. Elemis treatments have been designed to give the guest, the ultimate treatment with proven results. I am not really a spa aficionado so I let my wife enjoy the pampering whilst I went for a swim. Grace had the Ciúin signature facial and she waxed lyrical about it for some considerable time, meaning it was indeed a truly fab experience. She explained that the girls in the spa were complete professionals and the mixture of their expertise and the Elemis & Spiezia lotions and potions made for a super relaxing time.
The Ciuin Spa can also offer hairdressing each Thursday, Friday & Saturday with their onsite Hair Salon. The hotel does not just have a spa as there is a fantastic pool, sauna, jacuzzi and top class fitness suite as well as the amazing golf course. So whether its for, fun fitness or relaxation the SR does have it all.
Overall the SR is a must, for a holiday, short break or romantic evening, or wedding for that matter. It's located in beautiful grounds with amazing staff and wonderful rooms and superb food. If you want to try it then consider the special family package:
2 B&B 1 Dinner – Family Package
2 B&B 1 Dinner – Family Package (available during School Holidays)
2 Adults & up to 3 Children (sharing one room)
• Full use of Country Club facilities – 20m Pool 
• Renowned gardens and walkway
• Complimentary Golf on their Par 3 Academy course 
• Children's complimentary evening meal is served daily at 5pm in the Conall Cearnach Restaurant 
• Kids Club will run each day from 11 am to 10 pm for children aged 4 – 12yrs
Book one of our Family Packages and receive a one night complimentary voucher to be used again! (T's & C's Apply)