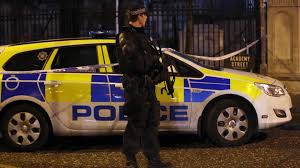 POLICE have carried out a series of searches and raids as part of a purge against suspected money laundering and illegal taxis.
Detectives from Serious Crime Branch searched a number of business and residential properties in west Belfast and Co Down yesterday and stopped a number of suspected illegal taxis.
This resulted in:
*a cannabis resin estimated to be worth £1,500 seized.
* a 52 year old man charged with possession of cannabis and possession with intent to supply. He will appear at Downpatrick Court on 24 July.
* £800 cash seized.
* six illegal taxi drivers stopped and spoken to regarding various offences.
* six persons detected working whilst claiming benefits.
* more than 60 road traffic and motoring related offences being investigated.
* one vehicle seized for using suspected "red" diesel.
* one illegal gaming machine seized.
The PSNI said in a statement: "A number of other items were removed for further examination during the searches which were conducted under the Proceeds of Crime Act. Police inquiries are continuing."