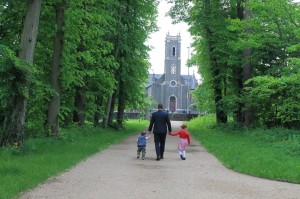 ST Comgall's Primary School in Antrim has been announced as the winner of the Travelwise NI 'Walk to School Week' photography competition.
All schools in Northern Ireland were asked to encourage pupils to get active during Walk to School Week 2014 (May 9 -14).
Pupils from the winning primary school St Comgall's have snapped up a photography master class to help them develop even better photographic skills.
Post-primary winner Saorlaith Breslin-Dean from Lumen Christi College picked up a Kindle Fire in a prize draw for taking part in a travel survey.
Transport Minister, Danny Kennedy said: "It was fantastic to see so many schools from across Northern Ireland getting involved in the Walk to School Week activities.
"I would like to congratulate St Comgall's Primary School on winning the competition and also thank all the pupils, parents and teachers that walked to and from school and took the time out to take photos of their journey.
"Encouraging children to walk to school has major benefits for the whole community. It reduces vehicle pollution, decreases traffic congestion and helps to keep children fit and healthy.
"I look forward to seeing the results of the travel survey which will provide useful information for my Department and other Departments as we seek ways of improving the travel habits and health of our young people."