A SENIOR detective has issued advice to members of the public to report suspicious activity at ATMs.
The advice follows the theft of a sum of cash from an ATM in Keady this morning, the theft of an ATM in Carrickmore, Co Tyrone on 23 May and the attempted theft of an ATM in Hamiltonsbawn, Co Armagh, on 5 June.
In all three incidents, gas ignition may have been used to remove the ATM.
Detective Chief Superintendent Roy McComb, head of the PSNI's Organised Crime Branch, said: "These types of incidents present a serious risk to the community.
"Our advice to the public is to avoid any ATM that appears to have been tampered with and, in particular, do not approach any which has hoses, wires or other items leading from it. Call the police immediately on 999."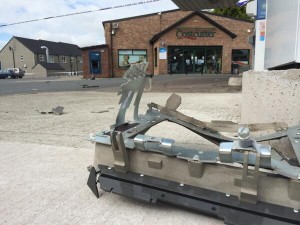 A number of arrests have been made in relation to the incidents in Carrickmore and Hamiltonsbawn. Two men have appeared in court on charges linked to the Hamiltonsbawn incident. Police enquiries are continuing.