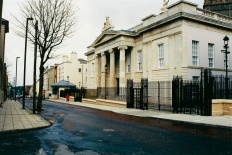 A CONVICTED terrorist, known as "Mr O" after a note intendted for dissident republican prisoners was intercepted by prison staff, has appeared in court on terrorism charges.
William McDonnell, from Rinmore Drive in Creggan, was charged with having a hand-written note for use in terrorism on 5 June last when he appeared amid a heavy police presence at Derry Magistrates Court.
The 27-year-old, who the court was told served a seven month jail sentence last year for a terrorist-related offence, was also charged with, between 5 and 23 June last, failing to notify police that he was not living at the nominated address listed on a 10 year register for terrorist offenders.
McDonnell refused to stand during the court hearing and did not speak when asked to confirm his name and address.
Handcuffed to a prisoner officer, he sat with his head bowed as the offences were put to him and, again, did not speak when asked did he understand the charges.
A PSNI detective told the court a small package containing a note, made up of cigarette papers joined together and wrapped in cling film, was found in an inside pocket of McDonnell's jacket when he arrived at Magheraberry Prison to visit a dissident republican prisoner.
The police witness said the letter referred to prisoners as POWs and contained references to "loose talk" among inmates.
The detective told the court police believed the note was penned by Thomas Mellon – who is in custody charged with directing terrorism – and he had given the note to McDonnell to take into the prison.
The officer said the tone of the note was that of someone in charge of an organisation.
Following the detection of the note, the court was told police visited his home on a number of occasions but he was not there, which the police officer alleged was in contravention of the register.
The detective told the court that during interview McDonnell presented police with a prepared statement in which he said he had been given the note by a person he was not prepared to name.
In the statement, he said he did not know the contents of the package and was not involved with any illegal organisation,
Objecting to bail, the detective said police believed the accused was a member of the IRA and they feared he would commit further offences.
The officer also said as McDonnell had a previous conviction for a terrorist offence, police feared he would "flee" the jurisdiction.
The court heard McDonnell was referred to as "Mr O" during Mellon's court appearance earlier this month.
Responding to a bail application by defence solicitor Paddy MacDermott, the officer confirmed McDonnell was arrested when he went voluntarily to Antrim Police Station on Monday.
Refusing bail, Magistrate Peter King remanded McDonnell in custody to appear at Derry Magistrates court again on 17 July next via video link.
McDonnell was cheered and applauded by supporters as he was driven from the courthouse in a police vehicle.