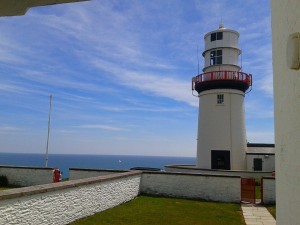 BY TIM HEDGLEY, GROUP TRAVEL EDITOR
THIS year sees a monumental change in the way lighthouses are managed and illuminated.
Traditionally they have been lit with a 1000-watt bulb, sitting inside two tonnes of French glass dating back to the 1900s.
This is all set to change with the introduction of led's and solar panels later on this year.
So if you want to see a lighthouse up close and personal and before they disappear as we know it, then now is the time to book a holiday with the Irish Landmark Trust. www.irishlandmark.com.
Galley Head Lightkeepers' houses are perched on dramatic cliffs at about 130 feet above sea level overlooking St George's Channel. The houses, in their elevated setting, make an ideal location for relaxing and getting away from it all. It's simply an amazing place to stay.
Gally Head lighthouse was built in 1875 with its closest neighbours being Old Head of Kinsale and Fastnet. The lighthouse displays an unusual landward arc of light and legend has it the Sultan of Turkey asked to be able to see it from nearby Castle Freke at Rosscarbery while on a visit there.
The two beautiful keepers' houses at Galley Head, were taken on by Irish Landmark in the final years of the 20th century. Light keepers who lived here would have witnessed the tragic loss of the Lusitania in 1915, and sighted a German ship carrying arms, in disguise as a Norwegian steam vessel, being pursued up the St. George's Channel by British destroyers a year later. The lightkeepers also helped in the rescue of 48 survivors of Flying Tiger flight 923 which crashed into the sea 500 miles off the coast approximately 50 years ago.
The lighthouse station consists of a tower connected by a 38 metre corridor to the semi-detached, two-storey, dwelling, originally built for the principal and assistant keeper, a single-storey dwelling for the gas maker. The two houses have been restored to their original symmetrical layout and make an ideal retreat for a family break.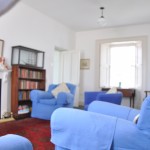 I stayed there in May and found that this is simply the most breathtakingly beautiful place to spend a weekend. The cottages are beautifully decorated in traditional lighthouse white, exposed wooded floors, period furniture, sash windows and a warm and cosy interior and views to die for from every room. The Galley Head lighthouse station is close to the award winning village of Clonakilty, famous for its traditional black and white pudding. This vibrant market town is must see and that is not just tourist speak, its really is a beautiful town full of pubs, craic, and a whole load of people having fun.
The quality of the cottages is exceptional, from the fortified front doors, much needed during the winter storms, to immaculate bathrooms and bedrooms. Peat fires and a cosy living room make this a unique property to visit like no other. An excellent kitchen and massive bathroom upstairs and beautiful furniture throughout. The cottage has no TV or WIFI, but you really don't need it. The views outside were simply the best images you will ever need, stunning hi definition views, surround sound of the birds and smell-a-vision of the ocean too!
The accommodation in my cottage had:
1 double bedroom
1 twin bedroom
1 bathroom
Separate shower room suitable for assisted disabled
Oil heating
Open fire
Iron & ironing board
Radio
Travel cot on request
Garden
The Galley Head cottages are really a fascinating place to stay even for a night, I drove down from Belfast and it was well worth the trip. Well done to the Irish Landmark trust for preserving this unique place in history. This was one of the best weekends I have had in a long time.
As one review says on trip advisor "The caretakers Gerald and Marie were very accommodating about my arrival time and extremely welcoming. The house was warm and cosy and completely spotless. The open fire had been laid and all I had to do was put a match to it and there was loads of peat in the bucket.
Gerald gave me a very unique tour of the lighthouse and during my visit I discovered his parents first posting on a lighthouse was in Larne Co Antrim! Gerard Butler can talk for Ireland, and everything he tells you is fascinating, a truly inspirational and interesting man. Gerald is one of Ireland's last lightkeepers. And he spent over 21 years looking after lighthouses around Ireland. In his recent book The Lightkeeper he recalls the thrills, tragedies and dangers of serving on lighthouses such as Bull Rock, Mizen Head, the Old Head of Kinsale and the infamous Fastnet Rock. There is no better place to read this than at Galley Head. http://www.thelightkeeper.ie/book.html
If you fancy visiting a lighthouse elsewhere in Ireland then you can consider
Loop Head Lightkeeper's House, Kilbaha, Co Clare
Perched proudly on an enclosure at the tip of Loop Head stands the lighthouse station. Surrounded by birds and wild flowers, cliffs and Atlantic surf, Loop Head offers holiday accommodation with all of the spectacular appeal of the rugged west coast.
Or in the North there is:
Blackhead Lightkeeper's House 1, Whitehead, Co. Antrim
Blackhead Lightkeepers' Houses are ideally situated on the North Shore of Belfast Lough.