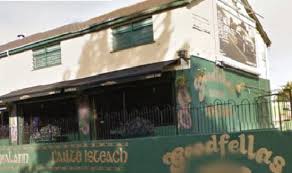 A CHEF is fighting for his life in hospital after he accidentally drank from a bottle containing oven cleaner.
The accident happened after Sean Slane, 40, started his shift at Goodfellas pizzeria restaurant in west Belfast on Sunday.
Mr Slane, who lives near the Falls Road, was rushed to the Royal Victoria Hospital after he picked up what he thought was a bottle of water at the Kennedy Way premises.
A spokesperson for the Belfast Health and Social Care Trust confirmed Mr Slane was in a critical condition.e
West Belfast MP Paul Maskey described the incident as a tragic accident.
Goodfellas management has not made any comment on the incident.