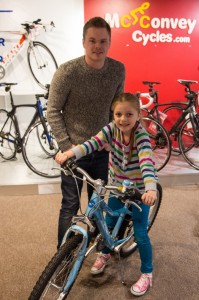 LUKE Wolsey, Managing Director of Little Wing Pizzeria presents lucky winner Hannah Robinson with a brand new bike, courtesy of McConvey Cycles and Little Wing.
Over the weekend of the Giro d'Italia, with every kids meal purchased in Little Wing Pizzeria, children were invited to enter a draw to win a new bike.
Hannah collected her bike just in time to enjoy it for Bike Week 2014, which runs from the 14-22 of June.