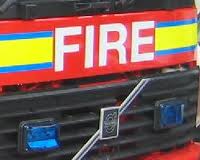 FIREFIGHTERS from Armagh station responded to a report of a fire at a house at Mullacreevie Park in Armagh.
The fire in the cooker was out on arrival of the Fire and Rescue Service.
Crews administered oxygen therapy to a 35 year old woman for mild smoke inhalation.
A working smoke alarm alerted occupier of the fire.