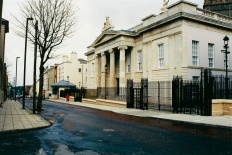 TWO men have been remanded in custody accused of assaulting and robbing an 71-year-old pensioner earlier this week.
Derek Creswell (22), of Strand Foyer, Derry, and Conor Lishman (26), of no fixed abode, faced a number of charges including assault occasioning actual bodily harm, robbery and possession of an offensive weapon, namely a breeze block, at Wesley Street in the Rosemount area of the city on Monday last, 16 June.
Lishman was further charged at Derry Magistrates' Court with assault causing grievous bodily harm and intimidating his brother who was intending to act as a witness against him.
Neither applied for bail and were remanded in custody to appear at Derry Magistrates' Court on 7 July next via video link.