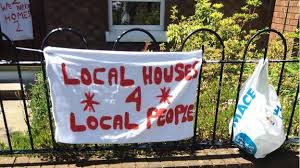 THE PSNI have removed racist posters from a home in east Belfast where an African family were forced to quit after loyalist protestors held a sit-down picket.
Michael Abiona, who works to help immigrants obtain their rights, has decided not to move into a new home in the Knocknagoney area of the city after five people turned up on his doorstep on Tuesday evening.
They held up banners with the slogans "Houses 4 local people" and "We need homes 2" on them.
The Nigerian, who has lived in Northern Ireland for four years, said four men and one woman protested outside his new home.
East Belfast MP Naomi Long said she was disgusted by the protests outside Abiona's home and that those behind the posters did not represent east Belfast.
"This sort of behaviour has no place in our community and does nothing but send out the message that east Belfast is unwelcoming, when we know the opposite is true.
"I hope the experience has not traumatised this poor family, who should be free to live where they wish without intimidation.
"Any right-thinking person will condemn this blatantly racist behaviour and I have no doubt the vast majority of residents in the area will be sickened by it.
"Rather than Mr Abiona and his family, it is this kind of vile behaviour that should be unwelcome in our society."
The Human Rights and Racial Equality Benchmarking report released on Tuesday found there were 982 racist incidents in Northern Ireland in 2013-14, compared with 750 the previous year.
Michael works alongside the Northern Ireland Council For Ethnic Minorities, which this week launched a comprehensive report on racism and race-hate crimes across Northern Ireland.
The NICEM report found that up to three race-hate incidents have been reported to the police every day since the start of this year.