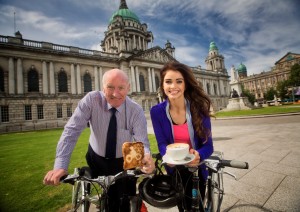 FOOD FOR FUEL…..Andy Bready from the Department for Regional Development's Cycling Unit and Anna Henry are encouraging commuters to ditch the car and jump on a bike this 'Bike to Work Day' on Friday June 20.
To celebrate Bike Week 2014, anyone cycling into the city centre between 7.30-10.30am today, Friday June 20 can avail of a free sit-down breakfast in Belfast City Hall's Bobbin Cafe.
Or alternatively, cyclists can grab a free coffee to go, courtesy of Travelwise NI.
Bike Week is running from June 14 – 22 and will see a packed programme of events taking place right across Northern Ireland.
It is to promote pedal power including a Pedalling Picnic from Coleraine to Downhill June 15 and an adult bike training programme in local community centres throughout Fermanagh from June 16 – 22, to name but a few.
For more information, check www.nidirect.gov.uk/travelwiseni or www.facebook.com/travelwiseni .