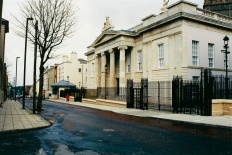 A 38-year-old man is due to appear at Derry Magistrates Court this morning charged with directing a terrorist organisation in the city.
The man, who was arrested by police in North Belfast in the early hours of Friday morning last, is also charged with being a member of a proscribed organisation.
Following his arrest under section 41 of the Terrorism Act, the man was taken to the PSNI's serious crime suitE at Antrim Police Station for questioning.