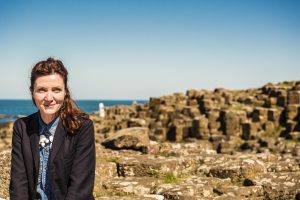 THE Northern Ireland Tourist Board (NITB) has launched a new all-Ireland summer campaign which focuses on the 'real people' that make Northern Ireland the perfect destination for a weekend break.
The new campaign follows real life visitors from the Republic of Ireland as they travel to Northern Ireland for a short break to experience exciting cultural destinations and capturing their genuine reactions.
The adverts feature world famous Game of Thrones actress and Causeway Coast native, Michelle Fairley, as well as real tour guides such as Caroline Wilson from Belfast and Colum Lynch who is the Guildhall and Tower Museum Tour Guide in Derry/Londonderry.
NITB's Destination Marketing and PR Manager Ruth Burns believes that Northern Ireland's world renowned reputation for hospitality coupled with the convenience of holidaying at home and the wealth of things to do on offer will ensure it is thought of as the perfect destination for a short break.
"With our new summer campaign we really wanted to showcase the people of Northern Ireland and how they help to make it such a special place. Visitors will be delighted not only with the wealth of things to do and see here but also with the stunning coastlines, warmth of the welcome and authenticity of experience. Northern Ireland is simply alive with culture, heritage, history and hidden gems and we think that visitors will be surprised and delighted at how much there is to learn, discover and explore.
"With this campaign we are seeking to position Northern Ireland as the perfect short break destination with lots of varied experiences on offer to suit every taste. Culture vultures can learn about Belfast's rich heritage and history, foodies can savour the sights and smells of St. George's market or enjoy a meal at one of the city's award winning restaurants whilst theatre enthusiasts can relax and take in a production at the Lyric.
"We are delighted that Michelle Fairley could take part in our latest campaign. She is extremely well known for starring in Game of Thrones, the series which has really helped put Northern Ireland on the map recently and as she is from Causeway Coast, she is absolutely perfect for the role of host in that area," Ruth added.
Michelle Fairley, actress and native of the Causeway Coast said "I am absolutely delighted to be involved with the campaign for Northern Ireland as the North Coast is where I grew up. It is full of wonderful memories, people, places and beautiful scenery. It is in my opinion one of the most stunning coast lines in the world. Once seen, never forgotten."
NITB is encouraging people to visit Northern Ireland for a short break for themselves and experience some of the many destinations featured in the adverts which include St. George's Market, one of Belfast's oldest attractions and home to some of the finest fresh produce as well as a variety of local arts and crafts all set against a backdrop of live music.
The Ox restaurant in Belfast is also featured and showcases how Belfast's food scene has reached a whole new level. The restaurant has recently won a range of awards including Best Newcomer at the Irish Restaurant Awards 2013 and Best Chef, Co. Antrim at the Irish Restaurant Awards 2013 and its close relationship with NI suppliers ensures visitors get to experience really authentic local produce.
The Lyric Theatre is just one of many arts venues in Belfast and is a well known cultural institution which features world class productions throughout the year, aiming to develop new audiences for the arts. One of its patrons is Liam Neeson, who also happens to be the voice-over for the NITB TV ad.
The campaign will be rolled out across Northern Ireland and the Republic of Ireland to encourage people to visit different areas of Northern Ireland and take advantage of the huge range of things to see and do, as well as the great value on offer. The campaign will run across television, outdoor advertising, radio, press and digital media. Web films will tell the extended story of the visitor's experiences to Northern Ireland and can be found on NITB's website discovernorthernireland.com. The summer campaign will run until June 30th.
For more information go to www.discovernorthernireland.com.