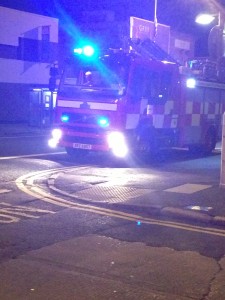 FIRE crews rescued nine people after a blaze broke out at an apartment block in Downpatrick, Co Down.
They were aged five month to 85.
Three were taken to hospital and six others were treated for smoke inhalation at the scene of the fire at Saul Street on Friday.
A Fire and Rescue spokesman said the blaze began when a wheeled bin was set on fire.
The hallway of the building was badly damaged by smoke.
Four crews from Downpatrick and Ballynahinch were involved in the operation.