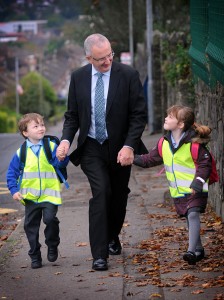 TRANSPORT Minister Danny Kennedy is urging all road users across Northern Ireland to take extra care on the roads during Walk to School Week 2014.
Taking place from 19 – 23 May, Walk to School Week will see more children than usual walking to and from school as part of an initiative which aims to help pupils discover the health, social and environmental benefits of walking.
Minister Kennedy believes that giving children the opportunity to walk to school is vital to their health and well-being and making the roads safe for them to do so is of paramount importance.
Danny Kennedy said: "With more children and their parents walking this week it is vital that everyone takes extra care to help make the roads safe and we are asking motorists to reduce their speed, especially around local schools.
"Walk to School Week offers children the opportunity to build a foundation for better health and their safety is a top priority.
"Walking helps keep children fit and it is also well known that those pupils who walk to school in the mornings arrive more alert and ready to learn than those who travel by car.
"All drivers have the responsibility to make the roads as safe as possible for young children and I urge everyone to be extra vigilant this week when more children will be out and about before and after school."
As part of the Walk to School Week initiative, the Department of Regional Development's Travelwise NI is running a photography competition and is inviting all primary schools in Northern Ireland to take part.
"The competition is free to enter and primary school pupils, their parents and their school teachers, are being encouraged to enter photographs, promoting walking to school to be in with a chance to win a photography master class for up to 60 pupils.
"Five runner-up prizes, one from each Education and Library Board, will win an online photography workshop or the chance to have a professional photograph taken of each class.
Post primary school pupils are being asked to complete an online survey of their methods of travelling to and from school using the following link: https://www.surveymonkey.com/s/WalktoSchoolWeek2014
All post primary school pupils that complete the survey by 30 May will be entered into a draw to win a Kindle Fire or cinema tickets.
Danny Kennedy said: "The Walk to School Week photography competition is educational and fun, and I would encourage all primary schools to take part and to encourage their pupils to get snapping this week.
"I would also encourage all post primary school children to complete the online survey to help gather information on current behaviours and attitudes towards walking and cycling to school which will help inform future campaigns and initiatives by Travelwise NI."
For further information Travelwise NI on 028 9054 0096, visit https://www.nidirect.gov.uk/travelwiseni or email Travelwiseni@drdni.gov.uk