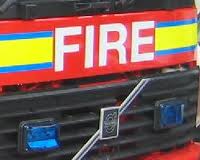 A farmer was treated for burns following a shed fire at the weekend.
The incident occurred at a farm shed on Cashel Road in Macosquin shortly before 5.00pm on Saturday.
Firefighters from Coleraine used hosereel and foam jets to extinguish the blaze which involved a tractor and bales of silage.
The farmer suffered slight burns to his hands and was treated at the Causeway Hospital's accident and emergency department.