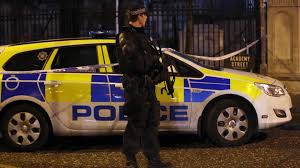 A 35-year-old man is custody after a pensioner in his 70s has been hit with a hammer during a burglary at his home in Ballynahinch, Co Down.
Three men with hammers broke into the house on the Crossgar Road at about 11.30 pm on Thursday night.
The man and a woman in her 60s were inside.
The man needed hospital treatment after being hit. His injuries are not thought to be life-threatening.
The burglars stole jewellery and left at about 1.30 pm on Friday. They were all wearing masks and gloves.
It is understood the man was arrested at a house in north Belfast during police follow up inquiries.