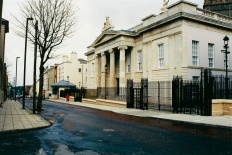 A teenage schoolboy who had been in custody charged in connection with a sex attack on a 13 year old girl earlier this year was released on bail today.
A court made the ruling when it heard suitable accommodation had been found for the 15-year-old outside his home city and child safety and protection plans had been put in the place.
The boy, who cannot be named for legal reasons, has been custody since he was charged with the sexual assault of the school girl on 18 March last.
During today's bail application at Derry Magistrates Court, police expressed concerns the boy not get the help he needed if released.
The boy's solicitor told the court every effort had been made by the boy's family to comply with all requirements for a secure bail address, including acquiring accommodation outside of the city which had locks on its windows.
The solicitor added a "multi agency approach" to his care had been put in place and "all angles had been covered."
Stating bail was in the "best interests of the child," the solicitor said there were concerns the young accused would give into peer pressure in the secure unit he was currently in.
Granting bail, District Judge Barney McElholm said: '"I don't think, with the best will in the world, that he would get the help and treatment he needs in a secure unit."
The boy was released on his own bail of £100 with a surety of £500.
Ordering the accused to be electronically tagged, Mr McElholm told him to reside at the agreed address outside the city, observe a curfew from 8.00pm to 8.ooam and abide by all conditions of the safety, child protection and family group conference plans that had been put in place.
He was also told not make contact with the injured party or her family.
Judge McElholm said the only time he was permitted in the city was to attend appointments and on such occasions should be accompanied by his parents or a an adult approved by police.
The case was adjourned to next month which the boy is excused from attending.