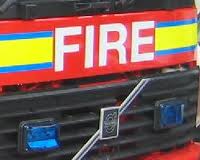 POLICE have launched an investigation after up to 4,300 pigs were killed in a suspected arson attack at a pig farm.
Fire crews spent most of Saturday tackling the blaze near the village of Bessbrook in Co Armagh.
The blaze destroyed three sheds at the farm on Derrywilligan Road, Mullaghglass.
According to NIFRS, firefighters were alerted after receiving a 999 call around 5.40 am Saturday.
Such was the intensity of the fire it took crews seven hours to bring it under control.
NIFRS said 800 sows and around 3,500 piglets perished in the blaze.
A NIFRS spokeswoman added: "The fire is thought to have been started deliberately."
Five fire appliances and an NIFRS Command Support Unit were involved in the operation.
Crews also brought in water tankers and a hydraulic platform from nearby towns and villages.
The fire was eventually put out just before 1 pm on Saturday.
Detectives in Co Armagh have now launched an arson probe.
Forensic teams are combing the charred remains to find out how the fire started and if an accelerant was used.