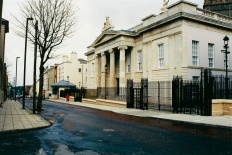 AN alleged Peeping Tom pensioner has appeared in court charged with attempted voyeurism.
John Doherty (78), of Belmont Crescent off the Culmore Road in Derry, faced three counts of attempting to observe another person doing a private act for the purpose of obtaining sexual gratification.
The offences are alleged to have occurred on December 8, 2013
The accused was remanded on bail to appear at Derry Magistrates Court on May 8 next month.