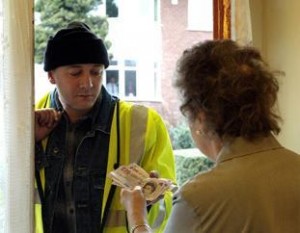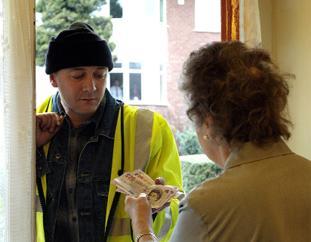 THE PSNI is warning the public to be on the alert for those involved in "doorstep crime".
Police in Bangor have erected signs on lamp posts in the Station Road, Killaire Park, Enterprise Court, Navar Drive, Old Rathgill, Hillcrest Walk and Riverside Road areas by officers from the local Neighbourhood Policing Team.
The signs inform everyone that the area is a "No Cold Calling" zone and that residents are "doorstep crime aware" and check identification.
Inspector Andy Culbert explained: "Most callers at your door will be genuine however some devious individuals will try to use the trust and good will of residents to trick their way inside for criminal purposes or to obtain money for shoddy or non-existent work.
"Rogue trading and its links to burglary can have a significant impact on the vulnerable and elderly within our communities.
"We have listened to the concerns raised by local residents about this and are addressing the issue head on for them.
"Earlier this year, we distributed useful free information packs to the local community.
"The packs contained 'No Cold Caller' signs and stickers, leaflets on doorstep crime and details of the free 24/7 identity checking service 'QuickCheck' which can be contacted 0800 0132290.
"The signs are the next step to ensuring those thinking about targeting an area know they are not welcome there.
"We hope they also make local residents feel that bit safer and less vulnerable in their own homes," he added.