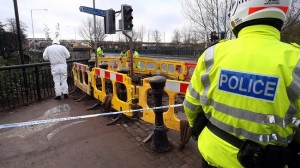 ANTI-TERROR cops believe they have thwarted a bid by dissident republicans to make a bomb in the run up to Easter.
In the early hours of this morning, heavily armed police stopped a van with two occupants on board following a covert surveillance operation.
Inside the white Ford Transit van, police found a large quantity of fertiliser, one of the necessary ingredients for making a home-made bomb.
Homes were evacuated in the area after it was intercepted on the Corbally Road in Fintona.
Army technical officers were tasked to the scene to examine the contents of the van.
Although no explosives were found, detectives believe the operation has foiled an operation by dissident republicans to build a several hundred pounds block-buster bomb.
In a statement, the PSNI said: "The security alert in the Corbally Road area of Fintona has ended.
"People have been allowed to return to their homes and the last remaining roads which were closed will re-open soon.
"A substantial quantity of material, believed to be fertiliser, has been removed from a Transit van which was stopped by police shortly before two o'clock this morning.
"The material has been taken away for detailed examination.
"Two men, aged 33 and 45, arrested earlier remain in custody at the Serious Crime Suite at Antrim police station.
"Police apologise for any inconvenience and thank the community for their patience and support.
"We understand the disruption these operations can cause to the community but emphasise that the operation was necessary to keep people safe. Police enquiries are continuing."