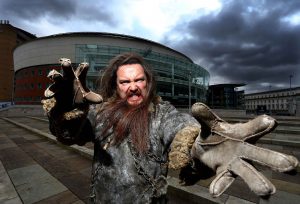 THE Northern Ireland Tourist Board (NITB), in partnership with Northern Ireland Screen and Belfast City Council, has announced that the highly anticipated HBO® Game of Thrones Exhibition will be returning to Northern Ireland from June 11 – 15, 2014.
This year, the bigger and better exhibition will be held in the Belfast Waterfront and is designed to transport viewers into the breathtaking and enchanted world of Westeros, where fans can explore Kings Landing, sit on the Iron Throne and even 'climb the wall' at the new Oculus Rift interactive area.
The exhibition will focus on the storyline and events of Season 3 with a few surprises from the fourth season and will feature over 100 original artefacts, including costumes, weapons, armour, set miniatures, storyboards and model dragons.
Game of Thrones is shot on location in Northern Ireland and is currently HBO's premier production and one of the most popular and successful fantasy TV series ever made.
Filming of seasons 1-4 took place in the Titanic Studios in Belfast and across various locations throughout Northern Ireland including the Cushendun Caves, Murlough Bay, Ballintoy Harbour, Larrybane, Antrim plateau, Castle Ward, Inch Abbey and Downhill Strand.
The series which is based on George R.R. Martin's best-selling books is one of several high profile programmes and films that have been shot in Northern Ireland in recent years.
NITB Destination Manager – Greater Belfast, Helen Carey is looking forward to welcoming the exhibition to Northern Ireland once again.
"Last year's Game of Thrones exhibition was a roaring success and we are confident that this year will be even more popular. Tickets for the exhibition which are completely free will go on general release in May and I would encourage anyone who is interested in attending the event to pre-register for tickets to avoid any disappointment and receive updates on all that's happening with Game of Thrones."
Councillor Deirdre Hargey, Chair of Belfast City Council's Development Committee said:
"Belfast can be very proud of the role it has played in Game of Thrones. Our city, as well as our people – from those in the creative industries who have provided their technical expertise to the hundreds of extras who have been hailed as among the best in the world – have played a major part in the show's global success, and have shone the spotlight on the world-class talent we have right here in Belfast. The Council is delighted that this fantastic exhibition is returning to the city and also that it will be on view in the jewel in our own crown, the Belfast Waterfront."
Moyra Lock, Head of Marketing, Northern Ireland Screen said:
"Game of Thrones is a phenomenal worldwide success and everything about the series can be talked of in superlatives. The show is of vast size and scale and is not only contributing economic benefit to Northern Ireland in terms of direct spend and job creation, but is further cementing Northern Ireland's reputation as a world-class location for film and television production. Additionally, films and television programmes have a significant, positive effect on tourism; they contribute to a wider 'branding' of people, society and culture, all of which has a very strong influence on creating a desire to travel."
"We have made no secret of the fact that we hope Game of Thrones will do for Northern Ireland what Lord of the Rings did for New Zealand. The Game of Thrones exhibition is the jewel in the crown of our expanded screen tourism proposition; an area which Northern Ireland Screen has identified as one of its thematic priorities this year. We are delighted to be working again in partnership with NITB and with Belfast City Council to bring an even bigger and better Game of Thrones Exhibition to Belfast Waterfront," Moyra added.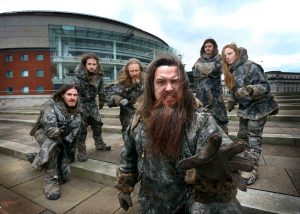 The Game of Thrones Exhibition will visit numerous locations around the world including New York, Mexico, Austin, Rio de Janeiro, Oslo, Toronto, Vancouver and Belfast.
Fans who attend the exhibition can explore the many displays which include;
Costumes, props, armour and weapons – created by artisans whose extraordinary craftsmanship has lent authenticity to the show since its inception, the collection includes a magnificent costume display featuring cloaks, dresses and armour; iconic artifacts such as model dragons and eggs; weaponry comprising of crossbows, daggers, spears, hatchets and swords; crowns and headdresses; jewelry; books, letters and maps; House banners; storyboards and much more.
The Oculus Rift Interactive Experience – fans will have the opportunity to "climb the wall" by riding an elevator at Castle Black.
Iron Throne – fit for any king or queen, fans will be able to take their photo on a precise replica of the Iron Throne from the series to post and share on social media sites.
Other areas that fans can explore include Kings Landing, Dragonstone, Bran & Hodor and a Memorial area.
The exhibition will also display an array of high end, official Game of Thrones merchandise from the HBO Shop®.
For information on tickets for the Game of Thrones exhibition go to www.GoTExhibitionbelfast.com and follow #GOTExhibit.
For further information on the Games of Thrones® exhibition and filming locations click on www.discovernorthernireland.com or visit your local tourist information centre.
For further information, including ticketing information please register at www.GoTExhibitionbelfast.com.