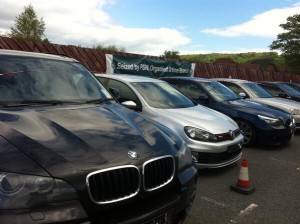 POLICE are warning people in Northern Ireland to be careful when they are buying or selling vehicles online.
The warning comes after figures released by internet awareness and safety body Get Safe Online and the National Fraud Intelligence Bureau indicate that online vehicle fraud amounted to £17.8 million last year in the UK.
In 2013, more than 6,600 UK residents reported online vehicle fraud to the police, with an average loss of £4,078 per victim.
In Northern Ireland in the first three months of 2014, at least 19 possible frauds have been reported to PSNI.
The amounts range from a few hundred pounds to several thousand.
Detectives say it is a worrying trend and are asking the public to be vigilant when they are doing any vehicle business online.
In the UK, fraudsters used the following methods to steal their victims' cash:
• Part or full payment for the vehicles and then loss of contact with the "seller" accounted for nearly half of frauds
• More than a third of cases involved the payment of a deposit rather than the full amount
• Bank transfers, fake eBay Invoices and fake Google Payment Systems Invoices offering non-existent "buyer protection" for the transaction were the most commonly cited payment methods
• Some victims paid funds to holding accounts on the basis that funds would be held until the buyer had received the goods and was satisfied with them
• Other victims received texts from well-known websites requesting refundable fees for car inspections.
Tony Neate, CEO of Get Safe Online, commented: "It has never been easier to buy or sell a vehicle than it is now thanks to the internet. The ability to upload and view photos and vehicle descriptions, and contact buyers and sellers – all with a click – have transformed the business, and people's experience of buying and selling. At the same time the internet has also made it easier for dishonest buyers and sellers to defraud larger numbers of people. Vehicles are valuable goods and because of this, trading them isn't a decision that people take lightly, so it's awful that fraudsters are exploiting popular vehicle websites. Hopefully our latest campaign will make people more aware of the risks before going online to buy or sell a vehicle."
Detective Chief Inspector Douglas Grant, from PSNI Organised Crime Branch, said: "The convenience of using the internet makes it very attractive.
"Sadly, not all adverts posted on the internet are legitimate. Last year in the UK thousands of buyers fell foul of fraudsters who pocket and then disappear with deposits and part or full payments for vehicles that are not actually for sale.
"PSNI is supporting this campaign to raise awareness of the threat posed by online vehicle fraud and would also urge anyone who has fallen victim to this crime to report it to Action Fraud so we can quickly identify and target those responsible.
"We have had a recent increase in allegations of online fraud. It appears that criminals are exploiting a lack of awareness amongst the public to 'scam' them out of, in some cases, considerable sums of money.
"PSNI is working with a number of organisations including trade ones to prevent this type of fraud but we are asking the public to be extra vigilant when purchasing vehicles and parting with money."
More information on the risks of buying and selling vehicles online, and how to stay safe, is available from: https://www.getsafeonline.org/shopping-banking/buying-selling-vehicles/#.Uywy7Pl_vAk
If you think you have been a victim of fraud you should report it to Action Fraud, the UK's national fraud reporting centre, by calling 0300 123 20 40 or by visiting www.actionfraud.police.uk.
If you responded to an advertisement online or in a printed publication, report it to the website or publisher.
For more information and advice on buying and selling vehicles safely on the internet, visit www.GetSafeOnline.org