NORTHERN Ireland's only specialist healthcare broker Independent Healthcare Solutions (IHS) is in good health following a very successful 2013 which saw the company experience significant growth.
The locally-owned broker enjoyed an increase in profits of 12 per cent year on year.
This was boosted by the addition of a host of new clients including Abbey Insurance, Powerteam NI, Value Cabs, Oasis Travel, People 1st, Shrader and RTU.
The growth of the business has led to IHS relocating to new offices in Moira, County Down and is attributed by managing director Audrey Spence to the company's specialist local knowledge and continued ability to save clients significant sums of money.
"As the only independently owned healthcare broker in Northern Ireland, we are uniquely placed to offer our clients advice based on expert knowledge of the local market," said Ms Spence.
"This knowledge combined with the fact that we are totally independent and specialise only in private healthcare means that we have access to the best deals for our clients and the ability to save them a lot of money.
"We offer our clients a customer experience that cannot be matched by our competitors. So much so in fact that I'm proud to say we have never lost a client to another broker or direct sales force on price or service," she concluded.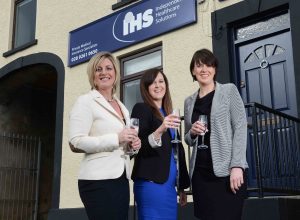 Established in 2002, Independent Healthcare Solutions offers specialist and independent advice across a number of areas including group and individual medical insurance, cash plans, new and existing schemes, competitive renewals, discounted corporate schemes and assistance in removing health exclusion issues.
Companies wanting a free 'no obligation' consultation, can visit www.indhealthcare.co.uk or call 028 9261 0650.