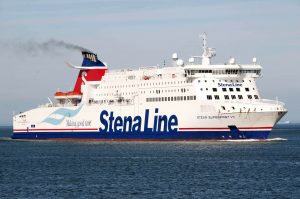 AS part of Stena Line's National Ferry Fortnight celebrations, kids under 16 can travel for free by car all year on every booking made by 11pm on March 31 (for travel up to January 5, 2015).
But to ensure that the ferry giant's adult customers are not left out they have been given the chance to win exciting prizes by completing a Facebook quiz that will determine what decade their inner child belongs to – and almost 4000 big kids have taken part!
Stena Line's Facebook page was buzzing as people answered some fun, picture-based questions that told them what era their inner child is from – the 50s, 60s, 70s, 80s, 90s and 00s – and the results shown that a flare-tastic 31% of people's inner child is from the platform wearing, 1970s.
Coming in second and third were the big-haired 80s (26%), the techno 90s (16%) with the rock n roll 50s, flower-power 60s and the post-millennium 00s in fourth, fifth and sixth places, respectively.
The favourite sweet treat with a lip smacking 26% of the vote was Bubbly chewing gum closely followed by the Wham Bar (23%) and Pear Drops (22%).
Over half of those questioned said that the Rubiks Cube (51%) was the toy everyone wanted and that Bon Jovi (32%) was the band everyone was dancing to at the school disco followed by the Bee Gees (30%) and Britney Spears (18%).
On the small screen people said that the action-packed A Team (53%) was tops with school caper Saved by the Bell (17%) coming in second and the crime-busting Batman (12%) claiming the third spot. On the big screen the fantasy extravaganza, Wizard of Oz (24%) was voted the favourite childhood movie with Chitty Chitty Bang Bang (23%) and The Goonies (20%) claiming second and third places.
The most popular game to play in people's spare time was Hop Skotch (45%), Pac Man (22%) and Tetris (13%) and when asked what the height of fashion was people said Reebok pump trainers (36%), platforms (35%) and hyper colour t-shirts (17%) were all the rage.
Diane Poole OBE, Head of PR and Communications for Stena Line, said: "We were delighted that thousands of people took a trip down memory lane by answering the feel-good quiz we posed on our Facebook page and the results so far have been a real eye-opener!
"As a child of the 60s I was particularly happy to see that my childhood favourite game hop scotch was featured not to mention the beehive hairstyle which brings back memories of long hours trying to get it just right before a night out dancing," said Diane.
Diane continued: "We hope that the savings people make with our kids go free offer will be put to good use having fun with all the family!
"Whether you're planning an exciting day out at a theme park when the kids are off school, an Easter getaway or a weekend jam packed with activities in Britain our kids go free promise makes life a little bit easier."
The ferry giant's promise to its customers is that every child under 16, on every booking made by 11pm on March 31 (for travel up to January 5, 2015), travels for free by car giving holidaymakers the chance to make huge savings.
For further information or to make a booking log onto www.stenaline.co.uk/kids, call them direct on 08447 70 70 70.